Welcome to Posh Paws - Dog grooming in Derby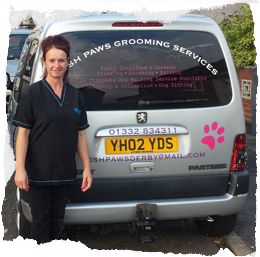 Hello, we're Posh Paws - providers of local dog grooming services in Derby and surrounding areas.
We absolutely LOVE dogs and feel so lucky to be able to spend our days looking after them. You can be assured that your pets will be in safe, caring hands and will be loved as if they were our own whenever we spend time with them - and will leave our grooming salon looking just perfect!
From our base in Breadsall, our experienced dog groomers offer your pets everything for routine tidy ups to full pamper sessions. We can bath and shampoo your pet and then give your dog's beautiful coat a cut and thorough brushing to leave them looking fantastic.
So if you're looking for an amazing dog groomer in Derby, look no further! Contact us today on 07730 766487 or email [email protected] to book your pet in for a wonderful session.
We also provide a dog walking service in Derby, working for lots of local dog owners in the Derby area help to keep their pets happy and healthy by taking their dogs for walks when their owners are unable to. Some of our customers are at work during the day, others suffer from ill health - but whatever the reason for needing our services, you can depend on Posh Paws to provide a reliable and friendly dog walking service.
Click the links below to find out more about our Derby dog grooming service as well as the other great services we offer for you and your pets...